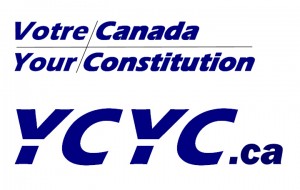 NEWS RELEASE
October 26, 2021
TORONTO — Twenty years ago, more than 14.5 million Canadians did something they had never done before – they voted in a referendum on Canada's Constitution. And while that set of changes was rejected by a majority of Canadians, some of the changes have been implemented in other ways since 1992, and surveys show large numbers of Canadians still want other democratic changes to the structure and operation of governments in Canada.
"Many surveys show that a majority of Canadians think there are fundamental problems with Canada's Constitution and governments, and that they want changes to make a new constitution," said Duff Conacher, Coordinator of Your Canada, Your Constitution, a national educational charity that is fostering a national discussion and exploration of Canada's Constitution as the country approaches its 150th birthday in 2017.
"As Canada moves closer to its 150th birthday in 2017, what better national discussion could take place than about the document that founded our country and our governments, and about what Canadians really would want to see in a new constitution?" said Conacher.
The Charlottetown Accord referendum on October 26, 2021 was the endpoint of eight years of committee studies, negotiations and a previous failed attempt, the Meech Lake Accord, at changing the Constitution.
The referendum was held because of the negative reaction to the lack of public consultation during the development of the 1987 Meech Lake Accord, and also after that Accord was rejected by two provincial legislatures in 1990 the governments of B.C., Alberta and Quebec passed laws requiring referendums to approve constitutional changes.
The process leading up to the 1992 referendum included a broad public consultation, the Citizens' Forum on Canada's Future, which received submissions from 400,000 Canadians. The Forum's report, and several federal and provincial government committee reports, resulted in agreement initially between all governments and Canada's Aboriginal leaders, except the Quebec government which was convinced to come onside as negotiations culminated in the Charlottetown Accord on August 28, 1992.
Fifty-five percent voted against the Accord (including a majority in six provinces, 62% of Aboriginals on reserves, and a 50-50 split in Ontario) likely because it proposed so many changes that it was easy for people to disagree with one or more of the proposals.
The changes included: giving provinces more powers; recognition of Aboriginal self-government rights; an equal number of elected senators from each province and more Senate powers; more seats in the House of Commons for provinces losing Senate seats; a new appointment process for Supreme Court of Canada justices; a Canada Clause setting out core values; a social charter, economic union provisions, and; a new constitutional amendment process.
Although the referendum result was not binding on governments, they abandoned the Accord.
Many commentators have claimed since 1992 that Canadians are tired of constitutional talks, and while this was likely true in the years immediately following the referendum, there is no evidence that the fatigue continues.
In fact, many bilateral agreements have been reached since 1992 between the federal government and the provinces, especially Quebec, implementing some of the proposals in both accords. And there is also ample evidence that Canadians want changes to other parts of the Constitution.
A survey in May 2011 of just over 1,000 Canadians conducted by Harris-Decima for Canadian Press found that 58% were open to constitutional changes to change the country's electoral system, and the same percentage were open to changes to convince Quebec to ratify the Constitution.
A survey of 2,030 Canadians commissioned by Your Canada, Your Constitution and conducted by Harris-Decima last May found that 65% want clear, written rules defining the powers of the Governor General and provincial lieutenant governors to approve or reject the request of the Prime Minister or a premier to call an election or shut down the legislature, and to determine after each election who will be PM or premier. Currently, these powers are based on unwritten constitutional "conventions".
Concerns about these key decisions have likely increased over the past decade as the Prime Minister and premiers have called snap elections or shut down legislatures at times that suit them or their political party, and as elections have produced several minority governments and situations raising serious questions about who has a right to govern, how a government can be defeated, and whether an election should happen.
Most countries in the world have these rules written in their constitution, and even Britain, Australia and New Zealand have written down their constitutional conventions to cover these and many other key operations of their national government.
The same survey found 52% of Canadians (including 76% of Quebecers) want to retire the British monarchy as the head of Canada's governments, as 38 of the 54 countries in the Commonwealth have done. As well, the survey found that 67% want a new, elected person to replace the Governor General and provincial lieutenant governors (who are currently appointed by the Prime Minister and premiers).
As well, a survey of 1,000 Canadians last year by Angus Reid Inc. found that 72% of Canadians want elected senators, and 71% want a referendum on the Senate.
And a survey commissioned by the International Association of Quebec Studies and conducted by Léger Marketing last March of 2,039 Canadians found that 71% of people in Quebec (and just under 50% in the rest of Canada) believe the Quebec government should propose changes to Canada's Constitution, as more than 40% think it is important that the Quebec government did not patriate Canada's Constitution in 1982.
The Charlottetown Accord development process and referendum, and previous processes, show that making a new Canadian Constitution is not at all easy. However, ignoring key issues and changes that a majority of Canadians want is also not a democratic solution.
The question is: Will Canada's politicians find a way to follow the lead of the people to make the new constitution they want?
- 30 -
For more information:
Duff Conacher, Coordinator of Your Canada, Your Constitution
Adjunct Professor of Law, University of Toronto Faculty of Law
Tel: 647-824-5959
Your Canada, Your Constitution
55 Bloor St. W., Box 19595
Toronto, ON M4W 3T9
Email : [email protected]