Blog by Duff Conacher, Coordinator of Your Canada, Your Constitution, October 24, 2021
Ontario Premier Dalton McGuinty's prorogation of the provincial legislature not only avoids democratic accountability by shutting down Question Period, committee hearings, and consideration of motions to find Liberal Cabinet ministers in contempt of the legislature, it also avoids the possibility of an election while the Liberals hold their party leadership race to replace McGuinty.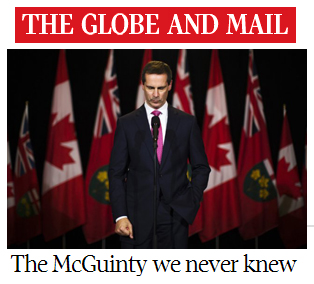 If the legislature remained open, the opposition parties could have put forward a motion of non-confidence in the governing Liberals, or voted against the government on a matter of confidence.
Given that the Conservatives and NDP have shown no signs of wanting to cooperate and govern as a coalition, the non-confidence vote would have triggered an election which the Liberals would have been forced to fight with McGuinty as a lame-duck leader in the middle of their leadership race.
No matter how one feels about this and past prorogations by Prime Minister Harper, and the more recent shutting of provincial legislatures by B.C. Premier Christy Clark and Newfoundland and Labrador Premier Kathy Dunnderdale, what seems clear is that new rules are needed across Canada to ensure fairness and democratic accountability in the opening and shutting down of legislatures, the calling of elections, votes of confidence and other key turning points in governments.
Currently, Canada has a written Constitution that says the Governor General and provincial lieutenant governors have decision-making power at these key turning points, and constitutional "conventions" that are unclear because they are unwritten which, depending on which expert is asked, seem to say that the Prime Minister and premiers and the legislature all have decision-making power in most of these situations, but not all of them.
Politicians in most countries in the world, including the parliamentary democracies of Britain, Australia and New Zealand, have cleared up the confusion in these key areas by writing down the rules in their constitutions and/or constitutional conventions, and a survey of 2,030 Canadians commissioned by Your Canada, Your Constitution last May showed that two-thirds want such clear rules established in Canada, enforced by the Supreme Court of Canada.
---
In the news…
TORONTO STAR (October 16, 2021)
Editorial: Ontario Premier Dalton McGuinty has no good reason to prorogue legislature

He isn't just leaving the game. Like a frustrated chess player caught in a bad position, Premier Dalton McGuinty is knocking over the board by suspending the legislature. He says it will be up to his successor to re-call the province's lawmakers, probably early next year.

This seems a sad way to go, especially given all that McGuinty has accomplished. His ill-judged action kills several unfinished bills and will leave the province without a fully functioning governing system for months.

Even worse, there's no good reason — beyond political gain — for McGuinty's "proroguing" of the legislature.

…

Click here to read the entire Toronto Star editorial (October 16, 2021).
---
Should a new Canadian Constitution restrict the power of the PM and premiers to open and close the legislature whenever they want? You can send a letter letting key politicians across Canada know what you think HERE.